GetResponse – Review 2017
World's easiest email marketing service
GetResponse is just as title says – World's easiest email marketing service.
GetResponse was founded in 1997 by Simon Grabowski with only $200 in his pocket. Today he is owner of multiple online businesses that serve growing network of over 23 million people.
It's also best known as award winning E-mail marketing service with main competitors such as Aweber & Mailchimp.
It's an excellent solution for beginner websites & bloggers that offers premium memberships to send high volume of E-mails at a time for high traffic websites & blogs. It's incredibly user friendly E-mail marketing service offering best third party contact integration.
It's well worth your money, in a sec I'll show you in detail what's GetResponse actually all about.
It's outstanding e-mail marketing service for any website owner who's interested in e-mail marketing.
It start off with smaller service plan offers such as 1000 subscribers plan that scales up to 100 000+ subscribers plan.
In its versatile nature GetResponse is suitable for beginner & expert sites alike.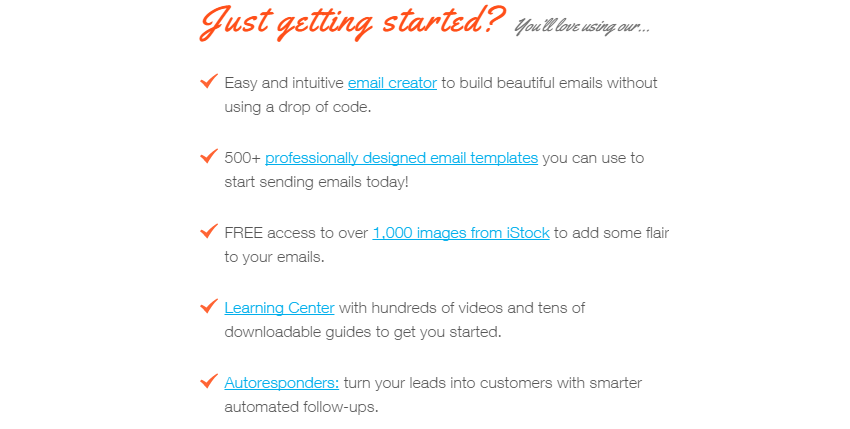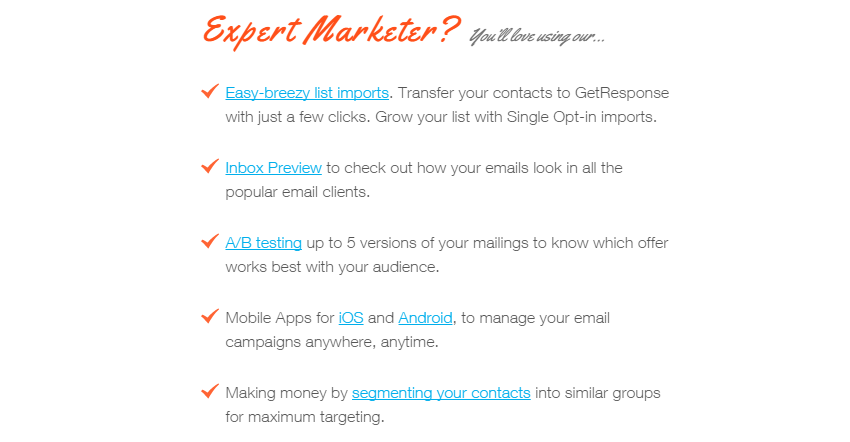 Pros & Cons with GetResponse
Pros
Outstanding support – 24/7 live chat & customer support via phone & e-mail
Great for Windows & Mac – Software supports latest major browsers & works perfectly on both of these OS
IOS & Android app – Comes with beautiful app specifically designed for iPhones & Androids
Time & action-based messages – GetResponse comes with autoresponder for these functions
1 GB image storage – Each account comes with this massive image storage & access to image libary
A lot of extras – RSS to e-mail, inbox preview as well as responsive designs & A/B testing features
Cons
Hidden fees – No refunds, not free, additional charges
Limited scope for RSS to HTML email layouts
Complicated interface for e-mail designing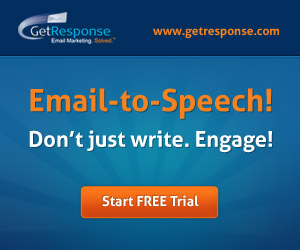 Great for small blogs & huge e-commerce sites alike
GetResponse – Trial Offer & billing
GetResponse gives you 30 days free trial for up to 250 subscribers. After your trial expires you get a chance to pre-pay for plan for a year or 2 years & save 18% up to 30% if you decide you'd like to stick with GetResponse.
As usually, month is considered 30 days & 1 year is considered as 360 days.
Hidden fees: Once you surpass your monthly plan you have to pay the full plan cost, PLUS you have to pay an extra free of $4 IF, for example, you cross 1000 subscribers list (in E-mail Plan case) & $8 if you cross 2500 subscribers list & so on.
Please be extra careful & read their pricing policy to avoid any misunderstandings in this section. This pricing system is very logical but still I'd suggest you to take your time to know your options.
Main features of GetResponse – What kind of tools will you get
Contact Tool – Manage your contacts easily – add, import & search as well as add & manage custom fields
Messaging – Create newsletters – Build & manage autoresponder & RRS-to-E-mail layouts.
Social Sharing – Share newsletters on social sites such as Facebook, Twitter, Pinterest
Survey Panel – Create surveys with ease & manage them from dashboard
Statistical Analysis – Link your GetResponse with Google analytics to keep track on your e-mail & surveys
Form Menu – A tool that helps you to create & manage different forms with ease
Landing Page Campaigns – Create & manage landing pages for your website
Premium Tools – Booster, App center, Spam checker, A/B testing, Image editor, Advanced Segmentation
Webinars – Create webinars with one click capture & high-quality video recording
Multimedia Panel – A tool where you can create images, videos, audio tracks

GetResponse university – Become a professional
Another awesome feature that GetResponse has to offer to you – An educational platform to for e-mail marketing.
You can become much more knowledgeable on e-mail marketing.
It's filled with video tutorials as well as slideshows & downloadable files to help you to learn about this particular topic.
How much does it cost to join GetResponse?
Plans for websites in all kind of shapes & sizes
GetResponse Bonus – An option for Referral & Affiliate Program 
GetResponse affiliate program pays you $30 for every person who joins through your referral link & buys any service plans from GetResponse after they've used their free trial.
Basically, by sharing your referral links to couple of other people & getting them to join, you earn enough money that technically makes using GetResponse totally free for you.
Additionally there's an option for affiliate marketing with GetResponse to earn recurring commissions of 33%. GetResponse also has specifically designed tools to help you out to do the promoting part.
So, in addition of getting an outstanding e-mail marketing service you also have an affiliate option to generate profit meanwhile using their wonderful award winning services.
GetResponse – My final Verdict
GetResponse is designed for beginners & professionals alike – It's helpful, as it has outstanding support as well as educational platform & affiliate program.
It's an e-mail marketing service with multi-tool kit where you can learn & earn profit at the same time.
I personally like this service versatility & multiple plans, so I give it thumbs up. GetResponse is legit & it's highly recommended for bloggers to make your life much easier.
Thanks for stopping by!
I hope you enjoyed reading my review & learned a lot about GetResponse along the way.
Feel free to ask for assistance & share your thoughts by leaving a comment.
Cheers,
Henry