Pure Leverage – Scam Review 2016
        Pure Leverage – Yet another typical MLM Scam?
Pure Leverage is MLM program launched in 2013. It's also part of an umbrella company called GVO (Global Venture Opportunities) that was founded in 1999 which provides hosting services & autoresponder.
In short – Pure Leverage program is described as means to help you to make money online regardless of your level of expertise or previous marketing experience. Ironically, it's actually not the case at all.
Pure Leverage claims to be the only program you'll ever need to make money online. They offer you "all-in-one" tool set through multiple upsells that does the work for you to build your business.
What they actually offer you is a set of basic tools that work but do not fit together very well.
Their main focus is to funnel you into buying their "tools" so you can create your own downline structure by selling Pure Leverage tools to other people.

Yes, it's one of those Multi Level Marketing companies. The list of tools includes coaching program, lead capture system, autoresponse & video email services, video conferencing & authority blog.
It's safe to say it's regular MLM with one main difference of being lower in cost compared to other similar MLM programs.
Pure Leverage - Ranking 20 out of 100
Pros & Cons with Pure Leverage
Basic tools & guide that teaches you how to leverage your business
Lower cost than most similar MLM schemes available online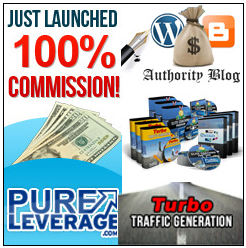 Program claims 100% commission payout every step – It's actually for first month only
Many parts of programs are listed but not available yet + outdated tools
Founder has aggressive demeanor – For criticism you can be threatened with legal action
False claims & blunt lies offered by affiliate program reviews that are often delivered in angry & complaining manner.
Expect over 50 spam mails in your e-mail inbox in fist month, that are trying to upsell their products
Poor support system – Expressing issues towards the system means that you should likely get ready to be publicly called out & verbally attacked, even by owner itself.
Targets inexperienced users – PL is using stereotypical MLM style approach by using "dream card" & "easy way out" solution that promises you instant riches
Additional costs a ka hidden fees – They let you in on low price point & then start overloading you with multiple new costs
How much does it cost to join Pure Leverage?
Basic membership – $24.95 per month
Reseller Fee – $19.95 per month
VIP membership – $97 per month
How much can you earn with Pure Leverage?