Cash Siphon System – Scam Review 2016
                      Yet Another Scam by Ewen Chias?
Technically, Ewen Chia asks money from you for something you can get from internet for FREE
Cash Siphon System is a basic training course for affiliate marketing. Ironically it goes against everything he says on his sales page how you don't have to sell anything or do anything to earn money.
It's the exact opposite what you have to do in affiliate marketing – It's a promoting business & this is the very same thing he is doing there himself. The big difference is the ethics he is using to deliver Cash Siphon System product – There is no ethics!
As you can sense Cash Siphon System sales page is full of blatant lies & false claims that are designed in intention to target inexperienced, desperate, lazy & mentally weaker folks.

Affiliate Marketing itself is a true legitimate way to earn money online but Cash Siphon System is simply a form of scam that focuses on a mere attempt to mimic the real deal.
Cash Siphon System – It's just a funnel/frontier for ANOTHER business
As you already can guess, there is no real product behind Cash Siphon System that would realistically help you..
Unfortunately it's just an empty idea, a blatant lie – This product doesn't even exist – The main function of this sales page is  to be a lead page & capture as many visitors as possible.. it's NOT focusing on selling an actual product from Cash Siphon System.. but to connect you with multiple other scammy MLM companies.
They try & seduce you & promote those products though this sales page to you to make a quick buck off from you
Cash Siphon System - Ranking 10 out of 100
Pros & Cons with Cash Siphon System
Pros
Money Back Guarantee – Chance to get your money back for the first 60 days
Basic Marketing Strategies – A guide to teach you the basic ways to drive traffic to website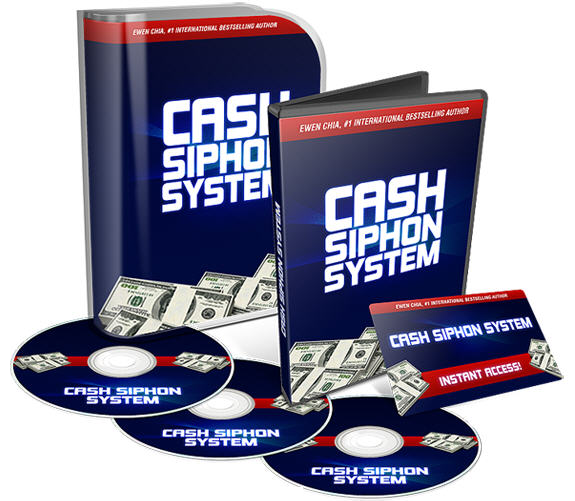 Cons
The owner is already known scammer – This is not the first nor the last scam made by Ewen Chia
Full of blatant lies – Their disclaimer strongly contradicts everything what they promise you on their sales page
Shady associates – associated with Justin Blake – it's yet another well known scam promoter you should stay away from
Connected to another scams – Cash Siphon System serves as a frontier & one of the leads to other Ewen Chia scammy products
No real product – Cash Siphon System doesn't actually exist – it serves only as a well marketed frontier with no real product behind the sales page
Few to non credible reviews – Typical to these type of schemes, the members who are promoting Ewen Chias products are biased & suffer from brand loyalty
Too many upsells – Buying a product is designed & built in a way that it leads you to buying yet another product – You can end up spending thousands of dollars
Targets inexperienced users – As scammers usually do, they target the inexperienced, lazy, desperate & mentally weaker folks through that "easy way out" card.
MLM in disguise – Ultimately Cash Siphon System leads to a MLM company called My Online Business Empire which means more upsells for you
Cash Siphon System – How much does it cost to join?
No Free Trial
There is no trial to see if you like this product – To join & in order to have any kind of access you have to pay $17 up front.
Who is Cash Siphon System for?
This product doesn't even exist!
In theory, Cash Siphon System targets anyone who's is looking for making money online. Ewen Chia system shows you the basics how to drive traffic to your website but does not explain how to get conversions..
Rather than teaching you the exact process step by step how to make money online he simply states that all you need is to drive traffic to make money. The way it's marketed is just ridiculous – There is no autopilot system.
Everything needs regular maintenance even the most advanced servers & especially your website business. It's just reality.
Here's also a video about that bad if not the worst possible business example Ewen Chia tries to sell to you: