Site Rubix Web Builder – the Best there is
Build a Free Website now – It takes just a few Seconds..
Build amazing things – Let your creative side take over without worrying about technicalities
SiteRubix is website building platform powered by Wealthy Affiliate, that takes building websites to a completely new level. All the technical aspects of building websites is completely removed, allowing you to be up & running within seconds.
It's paired it up with Wealthy Affiliate training, tools & community support that allows you to create valuable experience.
What was a month of work decade ago, to build a Website, is now reduced into seconds
With powerful & versatile website building tools the possibilities are limitless & will go as far as your imagination does. Whether you take advantage of Wealthy Affiliate instant website setup, which provides you a sub-domain..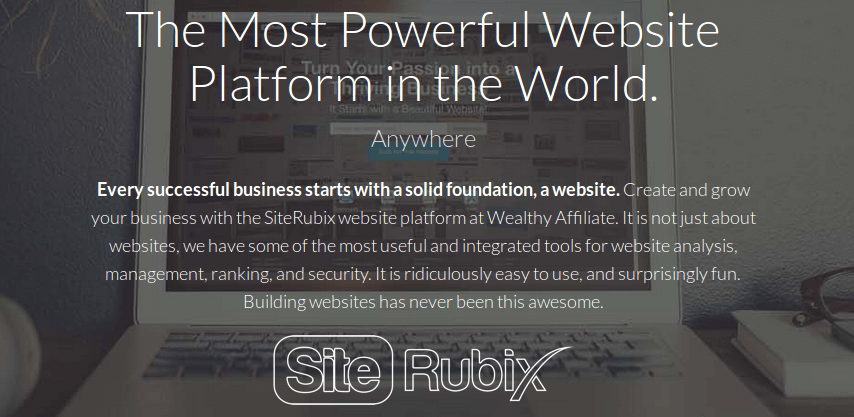 ..or you create premium websites on domains you own – In both cases, WA facilitates these processes & enables you to leave all technicalities behind you. Furthermore, WA hosts your domains, both sub-domains provided by WA & domains that you own.
It has been built entirely around what online business owners need
Site Rubix is a complete, all in one package with free starter membership account, 24/7 support, training & helpful community. Can't get any more professional than that – Very simple yet responsive & powerful.
SiteRubix is extremely easy to use & incredibly efficient – create fully functional high-end websites within seconds.
    SiteRubix powered – Website with Maximum Security
Major functions of SiteRubix Web Builder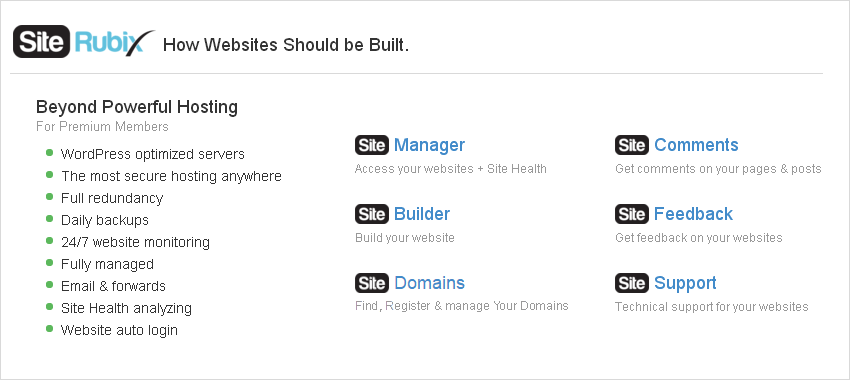 How to Access your SiteBuilder
In Wealthy Affiliate
1.Log in with your Wealthy Affiliate account
2.Select SiteRubix page from dashboard
3. Click "Go" on SiteBuilder sub-page
                       &
Start building your Website!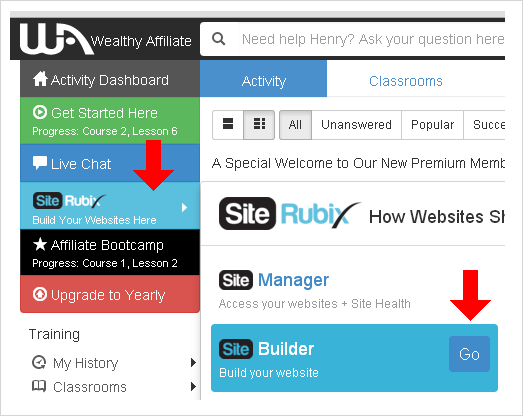 So, you're complete beginner to Website Builder?
Site Rubix
Build a Website in 4 steps
Choose domain
Name your website
Choose website theme
Click on "Build my Website!"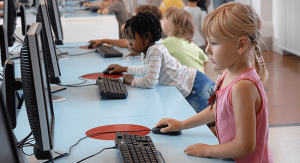 More awesome Free Tools for your New Site
         Very Easy to use & every Tool you need is There
Starter Membership                                                                                               Premium Membership
---
2 Free SiteRubix Websites that are powered by WA
Free lifetime hosting for free Siterubix sub-domains
Manager – Access panel to configure your websites
Web Builder – Access SiteBuilder to build your sites
Site Health Analyzing tool inluded in SiteManager
50 Websites – You get 25 Siterubix & 25 custom domains
Comments – You can request comments for your pages
Feedback –  You can request feedback for your websites
Support – Your sites are backed with 24/7/365 support
Email – You can create/forward domain specific e-mails
Special Bonus Offer for you - Take action & join Premium Membership for $19 - Couple of clicks & claim your bonus
Offer stands only if you join Premium within the first 7 days – You are going to get 59% discount on your first month Premium Membership
What's Special about SiteRubix Premium Membership?
Free OR Premium?
Remember, SiteRubix is part of Wealthy Affiliate – By default, you also get the full access to all the training courses with premium. Premium version uses exactly the same platform as free version but has more of everything.The 5 major feats that you get:
Hosting space for more websites – 25 custom & 25 sub-domains
Hosting space for custom domains – Got an existing website? No problem, transfer it to WA
Access to SiteComment – You can ask comments for your websites posts & pages
Access to SiteFeedback – You can ask general feedback for your website
Access to SiteEmail – You can set up unique business e-mail for each & every website you have
Training + Tools = Provided by Wealthy Affiliate to help you to build your website effectively
1
Free Member 
– Ideal package for complete beginners
You get three essential details to effectively build your very own brand new website without paying a dime:
---
Free website in siterubix subdomain
Free support & lifelong hosting to your free site
Free basic training course to build sites framework
---
If you're complete newbie & don't know anything about building websites, this is absolutely brilliant deal for you. It gets you set up & running for free, with no additional cost.
It's focused on building initial framework for your new site. Absolutely great deal, shows you step by step how to do it & makes it very easy for anyone who has never done something like this before – Helps you to get started, up & running without having ANY prior knowledge.
2
Premium Member 
– Ideal for advanced members
This is for those who already have an existing website OR wants a custom domain to up their game.
---
Ability to host as well as transfer Custom Domains
Access to a keyword tool with unlimited searches
In depth training courses to build all of your sites
---
If you have an existing website OR you're at the stage where you're ready to create a custom domain, this is the way to go – You'll get a bunch of improved stuff to keep you busy.
If  your main goal is to have a secure website with many more features on it – This is definitely superb offer for you. Get all of your modern websites tools & training from one place – An exciting place where you can learn how to be on top of your game & lead a successful venture.
Both versions are absolutely wonderful & fully live up to their promises

Thanks for stopping by!
I hope you enjoyed reading my review & learned a lot about SiteRubix along the way.
Feel free to ask for assistance & share your thoughts by leaving a comment.
Cheers,
Henry